How do you spend a summer in New York? Even in the evenings, the air hovering above this concrete jungle becomes stifling and oppressive. The usual hum of a million cars spewing exhaust is finally threatened to be overcome by the buzz of a million air conditioners dutifully chugging out electric bills. I suppose I'm lucky enough to be trapped inside most of the day for threateningly temporary 9-to-5 employment, but then it's quite possible to go stir-crazy moving from apartment to subway to office and back day after day. I try to break up the routine when I can, but it's difficult to walk two feet in New York without someone charging $10 to your debit card, making casual entertainment that doesn't bust into the "food and rent" fund somewhat difficult to find.
Luckily, for the film nerd with an NYU ID good until 2017, there is the Museum of Modern Art to solve all these problems. Free revival screenings are always a tempting thing, but MoMA has served up a particularly delicious schedule this summer, with series on Technicolor, the first wave of 3D, Mexican noir, and the cinematic influences of Martin Scorsese. Considering I more or less live in MoMA's Titus theater now (you'll find me towards the rear of the central seating, far enough away from both the daffy blind MoMA members who fill the front and the daffy uninterested MoMA members who snooze in the back), it seemed a shame for me to let these films I've been watching pass by without comment. So perhaps this will be something of a series, perhaps just a one-off summary to date. But come take a trip with me into the cool shadows underneath 53rd Street, won't you?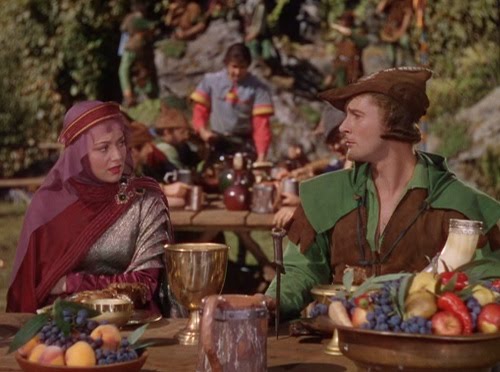 Sunday, June 7, 6pm: "The Adventures of Robin Hood" (1938), Michael Curtiz, William Keighley
My first stop in MoMA's series Glorious Technicolor, a 100th-anniversary celebration of Kodak's complex three-strip color system that quite literally changed the movies. Technicolor is most fondly remembered for primary-color bonanzas like "The Wizard of Oz," "Gone with the Wind" or "Singin' in the Rain," and MoMA has been dutifully screening such classics on rare 35mm dye-transfer prints that really showcase Technicolor's sustained vibrancy. But the retrospective also hopes to cover more muted, subtle uses of the process, and as it happens that rather unexpectedly includes this famed Errol Flynn swashbuckler.
Not that the palette of "The Adventures of Robin Hood" is dull or dreary, by any means. But it's a prime example of the dissonance that can occur between the expectation and execution of Technicolor. For years, new prints and digital transfers over-emphasized the primary colors in Curtiz's film, trying to give the film the medieval stained-glass look that audiences assumed would be the aesthetic for the quintessential Robin Hood tale and a Technicolor marvel. But the print that MoMA screened this past month was a more recent, painstaking restoration, one that shows the film as it was actually first seen by audiences in the late '30s, and the result was somewhat surprising. The tights of the Merry Men pop, and Olivia de Havilland's clothes-horse version of Maid Marian is something to behold (my favorite was a shiny chrome number that suggested a sci-fi spinoff alongside Robin Locksley of Mars) – but Sherwood Forest itself is an equal mix of leafy green and dusty brown, while the castle of the villainous Guy of Gisbourne (Basil Rathbone in superb mustache-twirling form) is actually quite dingy. The visuals, to a degree, actually ground the storybook nature of the tale rather than underline it.
Not that "The Adventures of Robin Hood" is actually a gritty precursor to Kevin Costner or Ridley Scott's insufferable versions. This is still Errol Flynn in peak form, saving a kingdom without breaking a sweat. All the familiar beats of the legend are present – the riverside duel with Little John, the archery competition, the triumphant return of King Richard – enshrined in a comfortable, compact narrative. Though there had been earlier, silent film versions of Robin Hood, the novelty of sound and color was enough to draw an audience in 1938, lifting Warner Bros. and Curtiz of the duty of finding some "new" take on Robin's mission. There's a visit to a Sherwood refugee camp that briefly evokes (and then dismisses) the Depression, but otherwise "The Adventures of Robin Hood" is content to provide familiar fantasy with a smile.
Tuesday, June 30, 7pm: "Kiss Me Kate" (1953), George Sidney
Though the MGM musical is arguably more colorful than "Robin Hood," it's not part of the Technicolor series, having been filmed with the originally-German process Ansco Color. No, MoMA is showing the Cole Porter adaptation as part of an all-too-brief retrospective of the first wave of 3D. Long before it became an excuse for theaters to charge you an extra $5 to see "Teminator Genisys," 3D was a truly passing fad, one of Hollywood's attempts to keep audiences in theaters at the dawn of television.
As opposed to today's 3D efforts, which seem to mistake nausea-inducing motion blur for thrills, '50s filmmakers seem to have been very, very aware of the ultimately silly, gimmicky nature of the technology they were playing with. At least, that's true for "Kiss Me Kate," an emotionally shallow but superficially delightful musical that's equally happy to throw a bucket of water or sexual innuendo in your face. (Wikipedia tells me that Porter's lyrics were "toned down" in places to appease the censors, but at some point with Porter either everything is innuendo or nothing is)
After the passing of several centuries, "The Taming of the Shrew" might very well be Shakespeare's most ethically noxious play, and the lets-put-on-a-show framing device that Porter tacked on doesn't do much to combat the latent sexism. Howard Keel's promiscuous leading man is a cad, Kathryn Grayson's diva is an easily-manipulated fishwife, and there's no particular reason to like or care about either of them, except that they can deliver Porter's delectable wordplay. The whole thing is an excuse – an excuse, to sing, dance and toss hats straight into the camera.
And if those are the parts that count, "Kiss Me Kate" delivers on that front. Keel and Grayson are able and engrossing singers, although supporting couple Ann Miller and Tommy Rall steal the show with their high-energy dance numbers. And damned if that isn't a young Bob Fosse – slumped shoulders, sunken chest and all – performing his own choreography (for the first time on film) in a jazzy interlude to Miller's "From This Moment On." It's a quick, one-minute section that feels air-dropped in from a completely different movie (indeed, from one of Fosse's own, later masterpieces), but even in its brevity it's mesmerizing, one of those magical moments where you can tell the filmmakers have no idea what it is exactly they've captured. Fosse's on-screen debut and the superfluous 3D make "Kiss Me Kate" a sort of fascinating time-capsule slice of the transitional state of Hollywood in the '50s.
Thursday, July 2, ~8:37pm: "Magnificent Obsession" (1954), Douglas Sirk
All right, I'm cheating here. I missed the MoMA screening of "Magnificent Obsession" a couple of weeks earlier (which was apparently dampened by a water-damaged print, in any case), but still wanted to catch up with the Sirk melodrama at home. And if I'm talking about my summer in film consumption, I simply can't let this one go by without comment.
Wow, you guys. What an utterly bonkers movie. Take 3/4 of your typical Sirk-being-Sirk (i.e. exquisite frames of Rock Hudson standing in front of windows), then round the rest of the film out with bits of "It's a Wonderful Life," "Seven Pounds," and juuuuuust a tad of "The Master," and you're in the ballpark. Based on a highly popular Christian-pseudo-philosophy-infused 1929 novel by Lloyd C. Douglas (previously filmed in 1935 with Irene Dunne and Robert Taylor), Sirk's film follows a millionaire playboy (Hudson) in his quest for romance and redemption with the widow of a generous doctor whose death he inadvertently contributed to. Along the way you'll see CAR ACCIDENTS! BRAIN SURGERY! INEXPLICABLE INTERLUDES IN THE SWISS ALPS! NEW MEXICO!
So many questions arise. Did Sirk intend the creepy, cult flavor in the air around the artist who shows Rock Hudson "the way?" Probably not. That's likely just a necessary by-product of Douglas' po-faced spiritual sincerity. Did Jane Wyman ever see or talk to a blind person before putting on sunglasses and halfheartedly flailing her arms around in front of the camera? One doesn't know what to wish for from that answer. How much time passes during this movie? I would buy anything from four days to twenty years.
This is the wonderful thing about Sirk. Maybe he's in on the whole joke, maybe he's not. It hardly matters when the results are so beautifully daft.